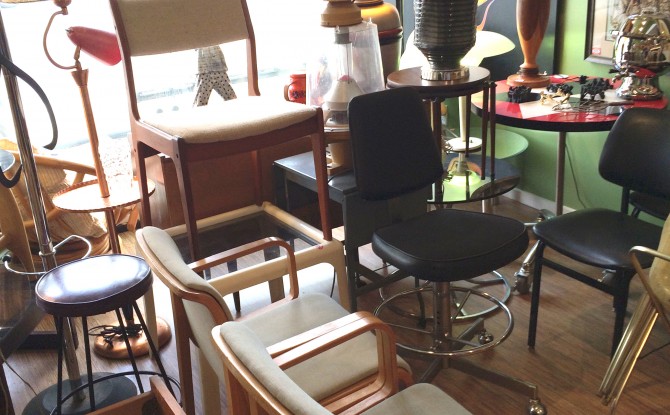 Where To Find Affordable Danish Modern Pieces in Vancouver
Coveting Danish furniture for your West Coast home can be an expensive habit. Luckily, it's not impossible to source high quality mid-century modern chairs, tables, sofas, and lamps at reasonable prices in Vancouver.
In Mount Pleasant alone, vintage shops abound. Main Street's ReFind at 30th Avenue is well worth your time.
The window displays at the shop offer a curated glimpse at the latest colourful wares, but actually stepping inside is like being transported into an eclectic shiny version of your grandparents' living room. Bart, the friendly owner at ReFind, clearly cares a great deal art, design, and people. He and his staff are warm, approachable and knowledgeable.
As we looked around, he casually asked, "Are you having fun?"
Truth is, it was a blast to be reminded of items you haven't even though about for 30 years. If you are on the hunt for a teak credenza or a sleek chair to add a bit of punch to your home, you're in the right place.
You may find yourself looking at the rare finds for several hours: it's easy to get lost in the time capsule of high balls and melamine mixing bowls. Be sure to check out the back rooms for modern art or one of those vintage chair-formica telephone combos.
Refind has also teamed up with furniture builder Bennet Mitten, an Antiques and Art restorer, to create a new line of condo-friendly sized furniture. For their exclusive line, ReDefined, Mitten deftly combines upcycled mid-century furniture to create modern pieces for smaller dwellings. You may come away from the experience ReFind with the determined desire to turn your living room into a tiki lounge, but at the very least. Our advice? Begin with a statement lamp, and go from there.
For additional Tips on how to collect mid-century modern like a pro, see Ellen HimeFarb's piece for The Globe and Mail.