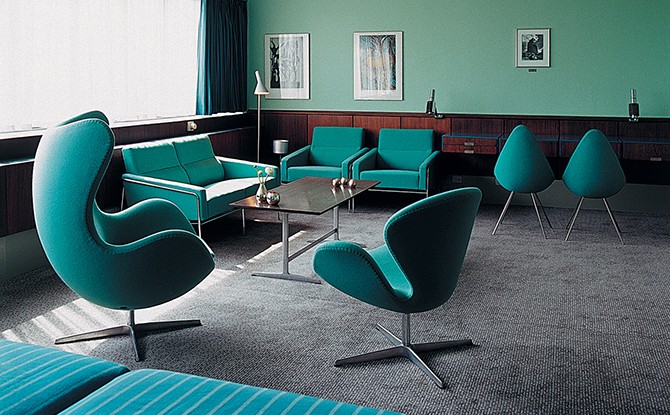 The Egg Before The Chair
Arne Jacobsen created the Egg lounge chair in 1958 as part of his all-encompassing design for the iconic SAS Royal Hotel in Copenhagen. The chair, and the hotel itself marked the advent of mid-century modernity and put Denmark at the centre of a worldwide design pantheon; an exalted position country still enjoys today.
The Egg was brilliantly conceived through the process of molding the basic silhouette for the chair with a piece of clay. With each successive iteration, the chair became an increasingly comfortably object for cradling the body. It signified both progress in its material production as well as a kind of industrial reductionism in its simplicity.
Either way, the chair remains a coveted piece. Its shape is referenced in contemporary interior programs all over the world. In Vancouver, Danish mid-century modern furniture continues to make its way into the city's living rooms.
As an international city – in terms of demographics and aesthetic taste – our love for Danish modernity makes sense. West Coast style looks to elements of nature for it's laid back feel just as Danish design references Nordic nature and relies heavily on wooden materials. In addition, Danish furniture design offers streamlined solutions for our increasingly cluttered lives.
"Design does not merely exist in itself – design reflects society."
— Birgitta Captillo
It follows that most Vancouverites don't have the space or the money to fill their homes with untouchable luxury objects for display. We crave functional pieces that delight us with their use and form. The chaotic pace of modern life requires us to be strategic in our design choices.
"The function of design is letting design function."
— Micha Commeren
Consumers today are keen to follow this logic when it comes to furnishing their homes. We need pieces that work, but overt functionality tends to be unsettling. Nobody feels relaxed in a home full of useful contraptions, no matter how functional they are. Vancouverites appreciate it when their needs are met more subtly. So go ahead, bring the natural world indoors with Danish inspired chairs that look perfect in your open concept kitchen, but pay special attention to the pieces that simply beckon you to sit down.